We can also repair jewellery for antique dolls and make jewellery for antique dolls such as earrings, necklaces, bracelets and beaded handbags.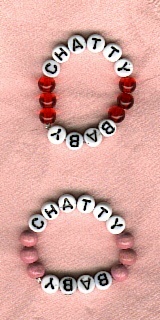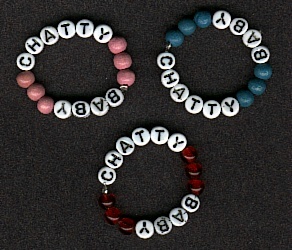 These bracelets are for Chatty Baby...the red ones are done with glass beads and match her original outfit perfectly. The pink and blue bracelets have wooden accent beads and are very sweet for Chatty Baby. We can do these up in any colours that you want.
Price $2.00 each plus postage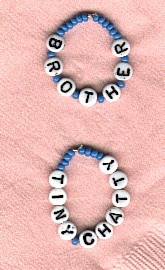 This is our double strand design for Tiny Chatty Brother. these 2 Baby ID bracelets are meant to be worn together in a double strand. This is a special style for that sweet little guy and matches his original outfit beautifully.
Price-$3.00 each set plus postage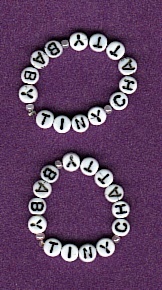 Above are some more styles for Tiny Chatty Baby.
Here is a closeup of a sweet bracelet for a Sasha Baby...it is $1.50 plus postage.

Here are some more custom bracelets. Please email with an order for your favourite doll.


With every 10 bracelets ordered, you get one free :)